Clawback in a Ponzi Scheme
Any lawyer involved in a clawback settlement agreement must, where possible, in the settlement agreement, distinguish between and earmark the two types of clawback that can happen.
Valuable Tax Refunds From Clawback Repayments
Total presentation time: 01:32:07
Presentation Resources: Taxation of a Clawback in a Ponzi Scheme
Report to Congress: Customer Outcomes in the Madoff Liquidation Proceeding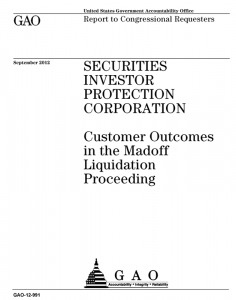 The U.S. Government Accountability Office (GAO) is an independent, nonpartisan agency that works for Congress. Often called the "congressional watchdog," GAO investigates how the federal government spends taxpayer dollars. View letter from GAO to Richard Lehman regarding his assistance.